Welcome back to the wonders of learning Twitter! As mentioned in
Twitter for Business: Why Your Company Needs It,
Twitter can benefit your business with increased networking and marketing opportunities. This may sound like an ideal marketing strategy which requires little monetary investment, but you may be unsure as to how to get started. Today, you will learn how to set-up your business Twitter account, have a better understanding of what to tweet, how to manage your relationships with followers, and how to maintain your business presence.
Basic Set-up
1.
Go to the Twitter home page at twitter.com – to sign up for Twitter either enter your information here or click Sign up for Twitter to begin there.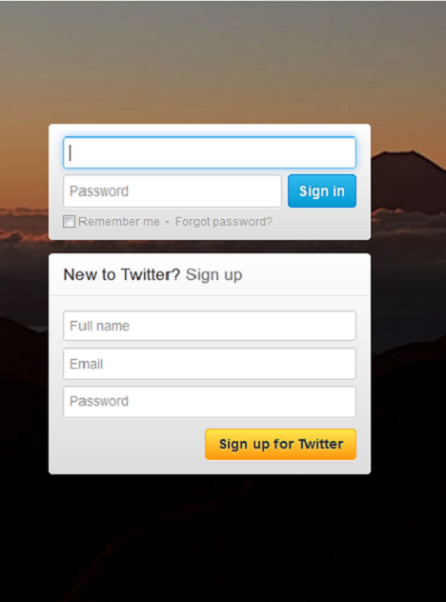 2.
To sign up for a Twitter account you'll need a valid email address and have access to the account in order to validate the Twitter account. Before signing up, have a couple username ideas brainstormed such as your business name and related terms. Your username, once set up, is referred to as your handle and is the name associated with your profile and your account on Twitter, so choose wisely. Also, for Full Name enter your business name.
This is what it will look like when you have accurately completed everything. Continue the set up process by clicking "Create my account."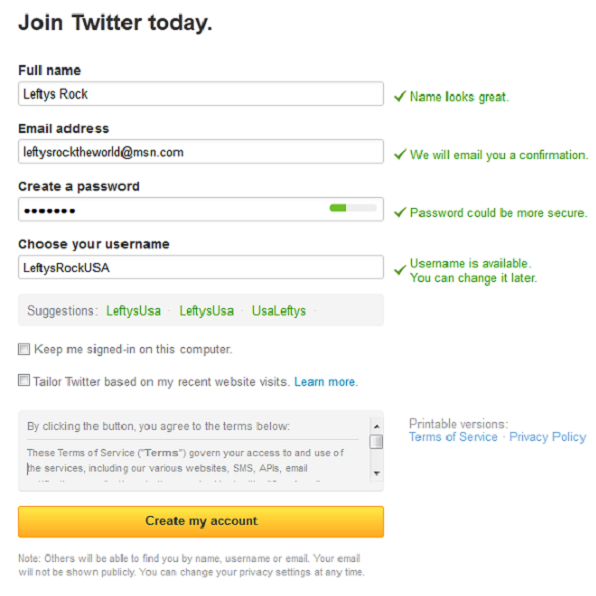 3.
This is the first page to appear after creating your account.
The next few pages will be prompts to "follow" people in order to build your followers and your newsfeed. It is recommended that you prepare a list beforehand of 15-30 people or businesses you would like to "follow," including competition, industry leaders, customers, inspiring people or other companies that you want to stay up to date with.

4.
After you have finished the prompts, you will see this screen below. It shows your newsfeed of the followers you just followed and allows you to upload your profile picture and company bio now.
The profile picture should be an image that positively portrays your business, typically a logo.
The bio can be up to 160 characters. It should be a description of your business, a brief review of your products or services, and should include a link to your website. You should include a couple industry keywords but that should not be the focus of the bio. You can also include other social media page usernames in the bio too.
5.
You can choose to bypass uploading your profile picture and completing your bio at a later time. In order to change these settings and other account settings, click the gear icon and click on Settings to further customize your new profile.
6a.
Account setting includes general accounts setting, like your username, email address, time zone, and privacy settings.
6b.
Password settings

6c.
Mobile settings include the ability to add a mobile number to access twitter on-the-go.

6d.
Email Notifications settings allow you to manage which Twitter notifications are sent to your email account.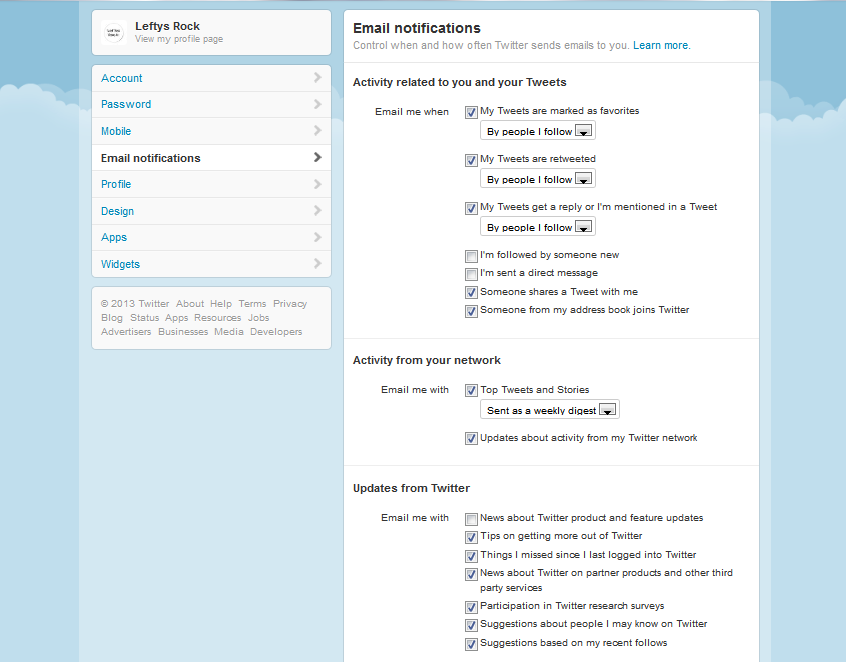 6e.
In the Profile settings you can change your profile picture, header, name, and location, add a website, write your bio, and link your Twitter feed to your Facebook page.
The profile header image, which is the image that backdrops your profile picture and bio, should showcase the business personality and tie with the theme from the profile picture.
6f.
The Design settings allow you customize your background picture and colors to match your brand. When deciding on a background image, it should be customized, not one of the default samples, and it should be representative of your brand. This image covers the whole screen of your profile page but only the side columns will be visible as the tweet information and sidebar cover the middle portion, so design the image to portray text or photos on either side column. It could include information such as brief text or a motto, company name or another logo, or a brief snapshot about company products or services or history.
6g.
The Apps settings tab can be used to add apps that can be used in conjunction with your Twitter account.

6h.
The widget tab allows you to customize your tweet format.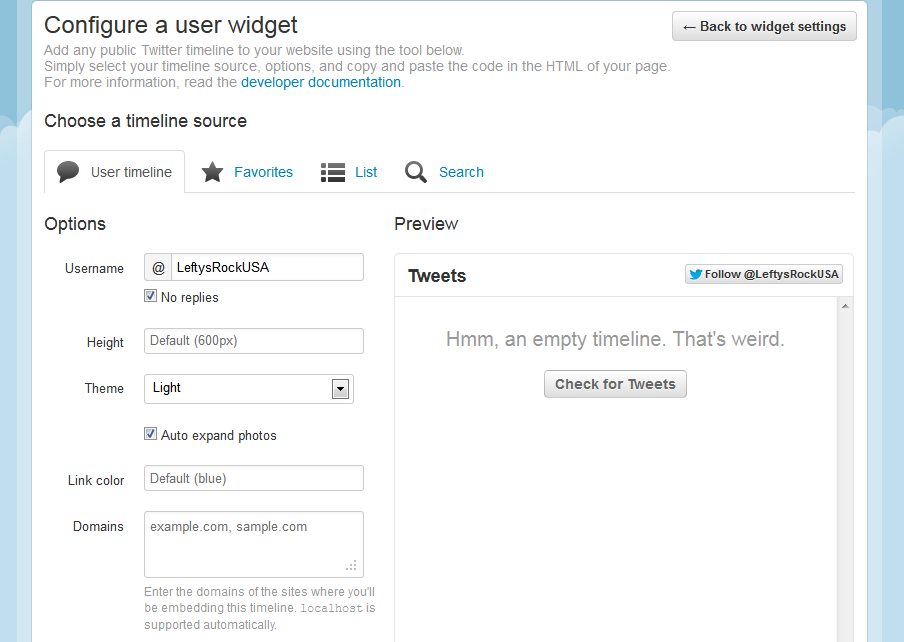 Home tab
Here is where you can see the tweets from your followers or also called your newsfeed. Also, personal stats about your profile are included: number of tweets, number of following accounts, and number of follwers of your account. The "Who to follow" suggestions and "Trends" trending hashtag boxes appear on each Twitter tab.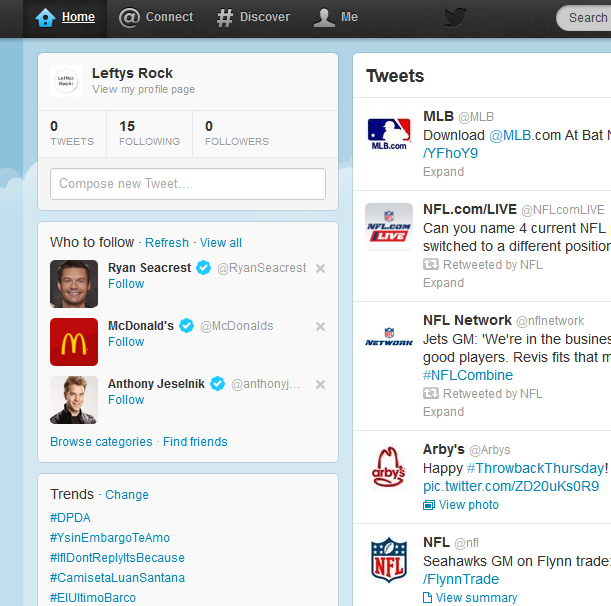 Connect Tab
The interactions tab displays any interactions that have occurred with your account including who follows you, mentions or replies to you using your @username, and other accounts' interactions with your tweets like favorites or retweets.
The mentions tab only displays mention or reply interactions.

Discover Tab
The Tweets tab displays tweets that may be of the greatest interest to you including people you follow and people you don't tailored to you based on who you follow and content you interact with most often.
The Activity tab displays the interactions your followers have had with their followers and other activity.

The Who to follow tab displays possible accounts that may be of interest to you to follow.
The Find friends tab allows you to discover friends using email accounts and more suggestions from Twitter based on who you already follow.
The Browse categories tab is a more generic way to find new people to follow.

Me Tab
This is your profile and what others see when they view your page. It displays your tweets, a tab for who you follow, who follows you, a list of your favorited tweets, and lists created by you to keep track of certain accounts.


Composing a Tweet
There are two different ways that you can begin writing a tweet. Both are shown in the image below, by clicking on the blue button with a pencil or on the home page under your personal stats where it says "Compose new Tweet."

As mentioned before, Tweets can be a maximum of 140 characters. You can past links directly into this box and will be shortened automatically. To post the Tweet you must click the Tweet button and it will post directly to your "Me" page and onto the newsfeeds of the followers of your account. In order to attach a photo, click the camera button and browse for the photo and upload it as you would for an email.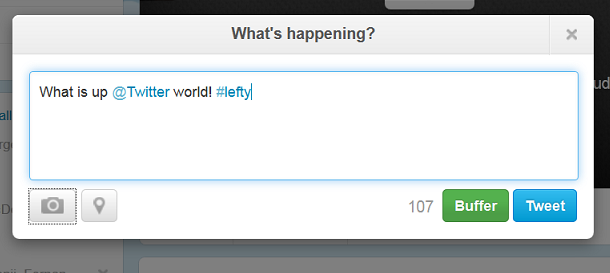 Tweet Etiquette
Articles relevant to your industry or your customers, include link
Facts or news updates relevant to your products, services, and industry
Aim for tweets to be between 120 and 130 characters (140 character max)
Post photos: your employees, your building, your products, your events (visual messages have the most interaction on social media sites)
Tips that can benefit your customers and potential customers, about your industries service or products, maintenance, etc.
Use hashtags to convey the theme or message of your tweet in a word or short phrase (1-2 per Tweet, not more than 3)
Use a social media publisher so you can schedule your tweets and spend less time daily on this task (Hootsuite, TweetDeck, Buffer)
Special Promotions Guidelines – offer a reward to followers when they retweet a specific tweet that mentions your business or product and only have the reward available if your followers reach a certain number of retweets (RT)
The reward could be a discount, free trial, extra service or something that better relates to your business
Be prepared to track the retweets and those that will receive the offer
It is also wise to include a link to the terms and conditions of your offer
Managing Relationships
Starting out: in order to build rapport and increase views, begin by retweeting and replying to your following's tweets, mentioning others in your tweets also helps
Who else to follow: find informative accounts by seeing who those you know or admire are following
Publishing your own content and sharing valuable information will help you increase growth on your own, but continue retweeting and replying to keep interaction with your followers going
Reply to directive questions and negative comments, not necessary to thank each new follower

Favorite and retweet positive messages, thank those who are praising you
Address critical and negative Tweets about your business ASAP

In order to direct message (DM), both parties must be following each other
Tagging another Twitter account using the @ and their username will allow the account to be tagged in your tweet

By placing the @username as the first word in your tweet, it will be considered a reply and will only appear on your profile page and on the feeds of people who follow both parties, by adding a greeting before @username will allow all followers to see the tweet
By placing the @username anywhere other than at the beginning of the tweet is considered a mention, this could be used to tag a quote, mention an event or appearance, or share where your information came from
Being a Business
Before promoting your business, first use your ears and eyes: follow and observe businesses similar to yours to see what they are doing well, and to learn from their mistakes
Use search.twitter.com and use keywords to discover hashtags and keywords associated to similar businesses. You can also use this URL to enter your product name or business to see what people are saying about you
Tweet offers, tweet your blog posts, create hashtags for events you host to track activity and involvement or build hype leading up to it
Track tweeting analytics to see what content is effective, some social media publishers, like Buffer, already have analytics integrated in the program
Twitter can be very beneficial for your business' growth and online presence but only if you have followers, and according to Twitter, "The best way to gain followers… is to regularly engage and contribute in a meaningful way." Follow @Esultants on Twitter and tell us how you will be moving forward with your Twitter account. And if you have additional questions before you make the leap onto Twitter, don't hesitate to contact us.
Hussain, Anum. "Learn How to Attract Customers with Twitter" HubSpot Ebook. HubSpot, n.d. Web. 20 Feb. 2013.."Twitter 101: How should I get started using Twitter?." Twitter Help Center. N.p., n.d. Web. 20 Feb. 2013.."Twitter for Small Business." Twitter for Business. N.p., n.d. Web. 20 Feb. 2013..